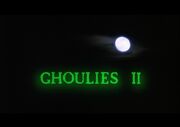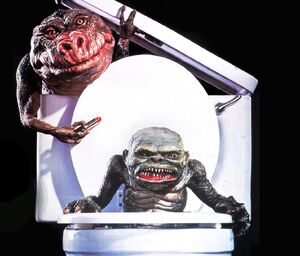 A young man named Larry (Damon Martin) and his uncle Ned (Royal Dano) were driving their truck with a sign painted Satan's Den through the night. Meanwhile, a priest (Anthony Dawson) was running through the woods, carrying a bag full of little demons, while being chased by a group of satanists. He hides inside a gas station to ditch them. The priest spotted a barrel of toxic waste. He dropped the bag in it, hoping to kill the demons inside. Suddenly, a flying demon crashed through the window and knocked the priest into the barrel, killing him. Larry and Ned stopped at the gas station for fuel. Finding no one for assistance, Ned helps himself to some fuel. Later, four more demons (Ghoulies to you) rose up out of the barrel and walked up to the truck. Larry stupidly left the back of the truck unlocked, allowing the Ghoulies to climb inside. The next morning, Larry and Ned arrived at a carnival, where they run a spooky attraction called Satan's Den. The place has failed to scare people because the props were so crappy and the place was in danger of being closed down. Little did they know, the Ghoulies went inside the place and made themselves at home. A short man named Sir Nigel Pennyworth (Phil Fondacaro) helped run the spook house.
Community content is available under
CC-BY-SA
unless otherwise noted.